Chamber of Commerce Websites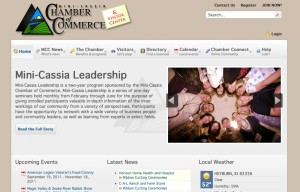 No one builds better Chamber of Commerce Websites than OpenPotion
We can build feature-rich Chamber of Commerce Websites that can include:
Private, members-only, social community similar to Facebook.
Live Chat / Instant Message – with other online members.
Business Directory – Customizable with Google Maps, Youtube videos, & more.
Event Calendar – that allows users to submit events and admins to approve them.
Message Groups – perfect for committee communication, ambassadors, etc.
News Portal – Give different admins access to news sections such as ribbon cuttings, president's message, etc.
Visitors Guide – Pulls data from the Business Directory for Restaurants, Hotels, & more.
Modules & Widgets – Can be placed throughout the site such as weather, upcoming events, featured news slideshows, etc.