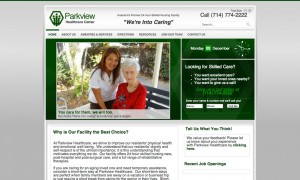 "I grew up with a Hospital Administrator for a father and ran an alternative healthcare business for a while, but what I excel at is marketing."
- Jason Hull, Big Cheese at OpenPotion
"I was raised by a health-care family; my Dad was the head of radiology and my Mother was a Nurse who later ran admissions at the hospital.  I spent a lot of years in the health field doing everything from recreational therapy to direct care in nursing homes and with special needs.  What I do best in life is write, and with our Health Care Websites, I get to bring all of my knowledge and talent together for our clients."
-Starr Bryson, Goddess of Content at OpenPotion
Whether you are looking for a site for a hospital or healthcare facility, or promoting health related products or services, we can help.  We build healthcare websites that sell effectively and convince people to trust and use your services.  Your current site likely has several challenges… things that are costing you money.
Talk with us to stop the leaks that are bleeding your advertising dollar and causing you greater employee costs.
We are marketers first, designers second.
We give you control so you can make simple changes easily.
We build our sites on the top open source platforms.
We have government grade security.
We have built websites for a variety of medical facilities and healthcare practitioners.
We know you are busy (we are too). Find and easily schedule whatever time that works best for you.