Your online reputation hangs in the balance.
In a recent study, 90% of frequent Yelp users said that a positive review affected their buying choices. In addition, nearly three quarters of online buyers reported that they trust online reviews 'completely'. Your customers' opinions control the success of your business. You no longer build the reputation of your business – your customers do.
With complex algorithms and intricate quality control, sites such as Yelp and Google are near impossible to control, so how do you make sure your business is only getting constructive reviews that boost your business? How do you turn review sites into awesome lead-generating machines?
What triggers the Yelp review filter?
Yelp HATES businesses asking for good reviews. In fact, they hate a lot of things. Here's just some of the things that bother the Yelp filter gremlins…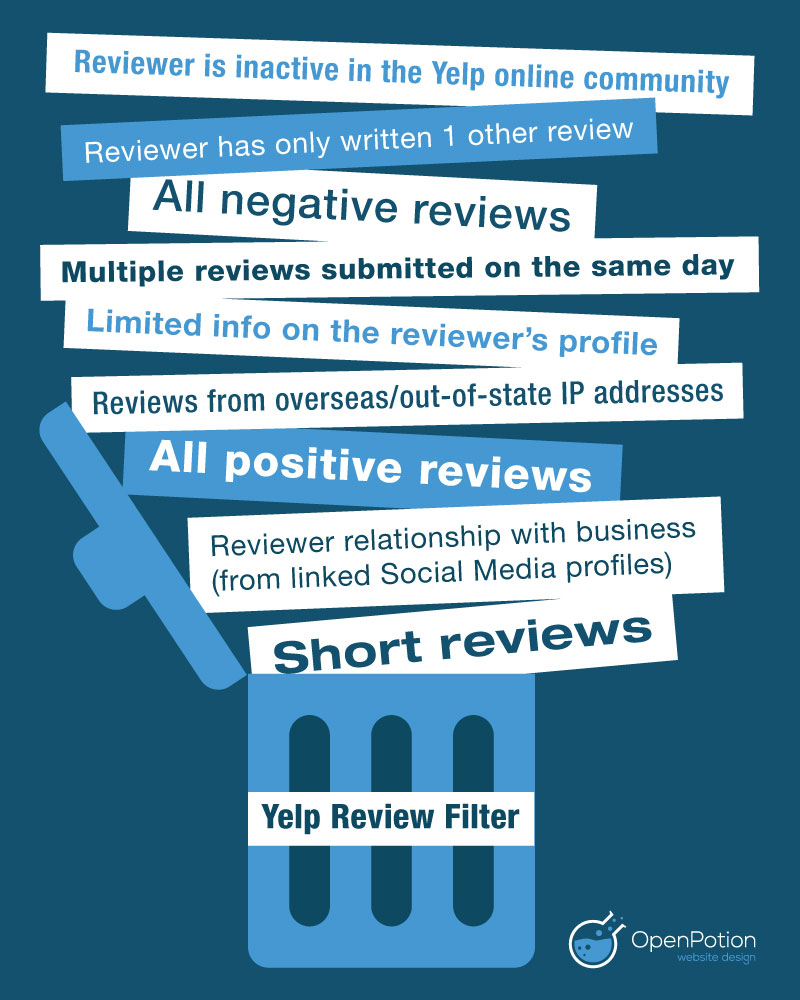 How do you keep reviews visible?
More people will complain when things go wrong than people praising when things go right. Think about it, have you ever called a waiter over to tell him the food was okay? No, but you'd let them know in a heartbeat if there was a hair on the plate. So how do you turn that customer frown upside down?

1) Proactively invite feedback.
"Feedback" is a wonderful word, as it literally means "Information about a reaction". When used for improvement, there is no such thing as bad feedback, just constructive criticism. The real skill is to build feedback gathering into the overall process, and use it to improve, not to drive others away.
2) Make it a long term work in progress.
Set aside a few hours every month to gather feedback from customers. This could be a mailshot that is sent to a small portion of your customers every week, or a few minutes spent calling customers and catching up with them. Break it down into a long-term task, make your communications with them personal and responsive, and be ready to react.
3) Put your feet up – let OpenPotion handle it.
If you're not making it really easy for customers to leave positive reviews, you'll get bad ones. Instead of messing with mailing lists, phone calls, and spreadsheets of data, make it easy on yourself.

One simple page. $29. Lots of kudos.
We'll set up the page with your branding, and get it looking spiffing and ready for an influx of visitors. Customers who have had a positive experience get pointed to the right review platform for them, while those with more colorful things to say are encouraged to share their grievances privately and find a resolution, before it has chance to negatively impact your resolution.

https://www.openpotion.com/wp-content/uploads/2014/07/yelp.jpg
366
700
OpenPotion Website Design
//www.openpotion.com/wp-content/uploads/2014/02/openpotion-website-design.png
OpenPotion Website Design
2014-07-15 15:02:48
2014-07-15 15:02:48
Do you have lackluster Yelp reviews?