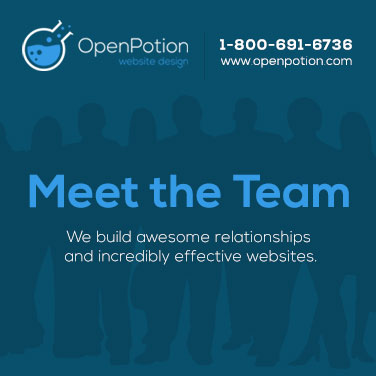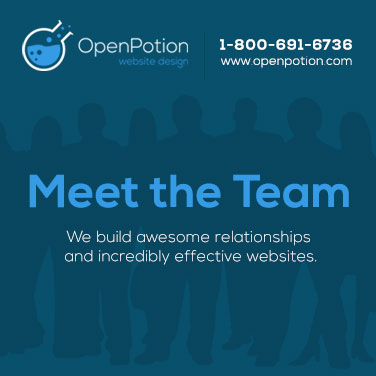 Here at OpenPotion, we hire the rock stars from our industry to craft a team of knowledgeable, experienced, and awesome team members.
Meet Morgan, one of our website developers.  Morgan lives on the East Coast of Canada, a few hours drive from Maine.  He spends a lot of time at work, so you'll usually find him at his computer.   Get to know Morgan with an exclusive peek into his world in the following interview.  I think you'll like Morgan as much as we do.
Tell us a little about your background in website design:
I began my professional career as a Graphic Designer. I started freelancing for a couple of New York's marketing firms including Hachette, Fillipachi, New Media, and Primedia  just to name a few. I have worked on projects for Nissan's Altima and Pathfinder, Chevrolet Corvette, Car & Driver, and ELLE magazine.
One day, I found something called Joomla. I loved it ,and it enabled me to create an entire dynamic website all by myself, without requiring a team of programmers anymore. Since that time, I focused my energy more on websites than graphic design. I learned a lot about Joomla, created some interesting sites, and am always excited for each new release. In the last year or so, I've also been creating with WordPress, and plan to test out PageKit when it's officially released this fall.
Sometimes I marvel at how times have changed – when I started, a good website cost clients $10,000 to $15,000. In fact, I even worked on a website project whose total cost was in the $100,000 range. Today,  you can get a website that does MORE than those sites did for a fraction of the cost!
Tells us about your work for OpenPotion:
At OpenPotion, I spend a good chunk of time handling Support Tickets. What I like most about handling support is that in order to fix some of the issues, you need to know a lot about all of the various parts of the website — this keeps me on my toes.  I learn new things every day.
 What do you like to do in your spare time?
Bike on nearby trails and  play "Assassin's Creed" or Battlefield 4" on  the PS4.
What is your favorite advice that you like to give to clients about their website?
I typically ask clients to think about the ONE THING that they want their website to do – the one goal they want their website to accomplish for them – and then we'll make the website do that for them successfully.
It's not that websites only do "one thing" – but it's that often clients want their website to do EVERYTHING, and that results in a website that, quite frankly, doesn't help the user accomplish what they came to OpenPotion for in the first place. By asking the client to think about the most important goal they want their website to do, they realize the importance of  a focused website.
What has been your funniest moment working at OpenPotion?
There's a couple, in the sense of chatting with the team members.  Everyone is pretty cool, so you can joke around with everyone and have a good time.
What's your favorite food?
Pie.
What would your rapper name be?
I can't rap. So that's not even an option.
Favorite movie?
A L | E N S and Critters
Share a favorite meme from the Internet with us.
I'm more into classics than fads. So I tend to ignore things like that.
If you had a super power what would it be, and why?
Never thought about it. Not something I usually fantasize about, I suppose.
Editor's Note:  If you ask us, Morgan's super power is his super sonic speed when it comes to support tickets.  He works fast, expertly, and handles everything with aplomb and excellent customer service skills.
~Starr, Content Goddess


//www.openpotion.com/wp-content/uploads/2014/02/openpotion-website-design.png
0
0
Starr Bryson
//www.openpotion.com/wp-content/uploads/2014/02/openpotion-website-design.png
Starr Bryson
2014-08-08 05:00:53
2014-09-11 13:50:53
Meet One of Our Awesome Website Developers